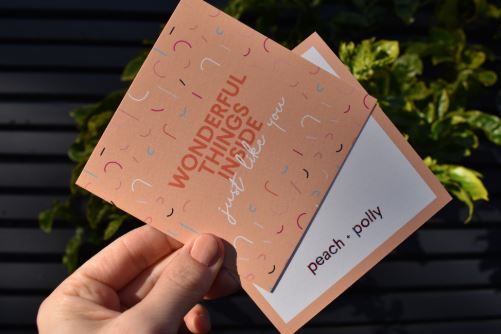 Unboxing With: Peach + Polly
"I really wanted our unboxing process to be so special, and having custom tissue paper adds to the quality, individuality, and the voice of our brand." Natalie, Founder.
By noissue — 19 September, 2019
eCommerce has led to a huge shift in how we shop and browse for goods. The gifting economy in particular has had a massive boost from online shopping - it's now worth a whopping $130 billion!

Subscription and gift box services have benefitted hugely from this growth. They offer a personalized gifting option to those who want something unique for their loved ones, with all the convenience offered by eCommerce.

But this proliferation of brands has created intense competition. To stand out from the pack, businesses need to show that they can deliver a stellar experience to the gift recipient.

This is where a curated unboxing experience can show consumers that you value your interactions with them. It turns a gift exchange into a real occasion that promotes customer loyalty towards your brand.

In the latest of our 'Unboxing With' series, we are featuring the gifting service Peach + Polly, who specializes in gifts for women that commemorate significant life events. Natalie, the founder of Peach + Polly, tells how she used noissue custom tissue paper to create a memorable unboxing experience that celebrates her brand identity.

(In Natalie's own words):

"Hey! I'm Natalie, I live in Melbourne with my husband, beautiful daughter and the cutest little Cavalier King Charles Spaniel. I'm a primary school teacher who is always trying to find a creative outlet!"

"I started developing Peach + Polly in 2017. Initially, my vision was to create gifts that were a little bit of unexpected kindness for the women who needed it. I really love finding the perfect present for someone, and I get a kick out of those times when you really nail it!"

"My vision is for Peach + Polly to be a convenient go-to site for unique gifts, containing local, ethically conscious brands that brightens someone's day. My initial vision was based more around contributing to organisations I feel passionate about, I hope soon to be able to do this authentically. Also, having just been through the 'new mum' stage, I really wanted to offer gifts that were different from the same old baby gifts you receive, with a focus on something for the wonder woman who has just had her life (and body) turned upside down!"

Q: How do you choose the products that go into your parcels? Are there specific criteria?

A: "This part is the most fun, yet also the hardest! There are so many amazing small businesses around, I really aim to go with brands that share similar values to us. Initially I attended the Life In Style retail trade event in Melbourne, which gave me some lovely brands and stories to begin with. I'm especially passionate about supporting small businesses run by amazing women. I also started by thinking about the types of products I choose to consume, especially when pregnant or breastfeeding."

"Now that we're coming up to our first anniversary of being live, I'm starting to evaluate some of the products and am starting to see what's working and what isn't so much. I want our gifts to be fun, uplifting and practical. We also aim to stock local products, with most of our products made in Melbourne or Sydney, Australia. Right now we are hoping to introduce a few new brands, with sustainability and ethical practice at the front of our minds when working with these small businesses."

Q: What does sustainability mean to your brand? What steps have you taken as a business to lower your environmental footprint?

A: "Sustainability is always at the forefront of our business. Most of our product packaging is recyclable or reusable. We also made the decision early on to not over-order on our branded packaging. Our gift/shipping boxes are of really high quality, so we encourage them to be reused. As a new business, I've only ordered these gift boxes as needed to avoid future waste."

"Other ways we aim to lower our environmental footprint include sending digital receipts, and offering local pick-up to avoid multiple pick-up routes via couriers. We also stock beautiful glass water bottles and reusable coffee cups, as this is a simple change people can be encouraged to make in their daily lives- especially when they look as pretty as ours!"

"We definitely have a long way to go and have some ideas we would love to implement in the future, starting with showing our community the multiple ways we can upcycle used products such as our candle jars and cookies containers."


Q: What was the creative process for designing your custom tissue paper?

A: "I was lucky enough to work with a fantastic graphic designer (Alisha of Studio Marche). I had a bit of a vision of the colour palette I wanted to represent the brand, I really wanted our packaging materials to be bright, warm and fun. Alisha really refined the brand colours and zoned in on the peach colour to link with our name!"

"Our custom tissue paper combines the signature peach colour with shapes taken from the logo fonts. We were so pleased with how it turned out, and have had so much lovely feedback from people when unboxing their gifts. I LOVE the unboxing experience myself, so I really wanted custom packaging that would pop when the recipient open the box. I also really connect with brand colours and patterns, myself, so I hope that when our parcels are opened they have that WOW factor!"

Q. Take us through your process of packaging your parcels. How do you make the experience as unique and personalized as possible?

A: "Currently we have a range of parcel options for baby shower gifts, new mum gifts, bump gifts and general gift parcels (birthdays, congratulations etc.), we also offer a 'pick your own' option. We are currently in the middle of deciding how we can best restructure this to make it a more streamlined approach and offer a wider variety of gifts for occasions."

"Every single one of our parcels that has been delivered has been picked, packed and sent with so much love and personalisation. We are lucky to have a community of really loyal customers, many of our friends and family who we are able to consult with to make the parcel most suite to the recipient. So as we are a pretty fresh small business, any time we receive a new parcel to pack we jump up and down a little with excitement, then we get packing straight away!"

"It takes about 15-20 minutes to create the parcel, between selecting and fitting the products, packing the custom tissue paper, handwriting the note from the sender and finally tying up that ribbon, we then send it off as soon as is humanly possible! A handwritten note on the outside of the box is one of our favourite touch points, as we really believe it is such a personal thing that there just isn't enough of these days. We also wanted it to be a little reminder to the amazing lady opening her gift, that she is wonderful, hence the wording of the front. One of my favourite things is to receive a heartfelt note or card, so we aim to recreate those personal touches with each parcel so our customers feel valued."

Specific steps for our box design:
Pick the products
Packing into the custom tissue paper
Arrange products inside the box
Close tissue paper over and secure with a custom sticker
Close lid, tie the ribbon around the outside of the box and attach a handwritten note!

Pro tip: Steps such as handwritten notes or free samples are fantastic additions to make your unboxing special. More tips, check out our post on the key elements of a great unboxing experience!


Q. Why did you choose noissue? How has custom printed tissue paper helped your brand?

A: "We discovered noissue through Instagram! We started crushing on all of your amazing work and decided straight away we wanted to get some of that! It may seem silly, but it has really made us feel like we are an actual brand. I really wanted our unboxing process to be so special, and having custom tissue paper adds to the quality, individuality, and the voice of our brand."

"The other thing that instantly drew us in was how easy the process was! In the setup stage every little step was new for us, so when I checked out the noissue website, the ease instantly appealed. Seeing the cost upfront made it much easier to budget for, as each little expense adds up when you're setting it up out of your own pocket!"